Want One Of The Most Thorough Termite Inspection On The Market?
Whether you just need an annual Termite Inspection or you may have discovered Termites. We have highly experienced, licensed White Ant Inspectors ready to give your home a thorough going over.
With a Termite Inspection, experience matters. There are several main types of timber destroying termites in Australia and understanding their different characteristics is important. Knowing these nesting, eating and exploring habits gives us a better chance in finding termite activity and potentially where the nest/s are.
Termites favour timber that is high in moisture as they require a damp area to survive. Termites can attack drywood if there is a moisture source nearby such as a leaking pipe. This is why we see most termite damage to wet zones like the laundry, bathroom and kitchen. So detecting moisture is a large part of our inspection. Most homes will hold a safe threshold of moisture which is normal, it's when it goes high we have issues. We use a Thermal Imaging Camera and Scientific Grade Moisture Meter to find these areas of concern during the inspection.
Where Do We Look In A Termite Inspection
Our Termite Inspections are very comprehensive and adhere to Australian Standards 3660.2-2000 for existing buildings. All our Termite Inspectors are agile enough to enter the ceiling space and under floor areas (Subfloor) provided it is safe. The ceiling space inspection is vital to a thorough examination and a simple look from the man hole will not suffice.
Areas Included In A White Ant (Termite) Inspection;
Ceiling Space (provided there is sufficient height and no foil insulation present)
Timber Elements to the Ceiling Space eg. Trusses, Joists, Battens
Timber Elements inside the home

Timber Architraves
Kitchen and Bathroom Joinery
Stairs
Windows, Doors and Door Jambs
Walls and Floor Coverings

Subfloor
Timber Elements External

Decking
Non Structural Retaining Walls
Gardens and Landscaping
Other yard structures (Sheds, Gazebos etc) no more than 50 metres from main dwelling.
What equipment is used in our Termite Inspection?
A Termite Inspection as defined by Australian Standards is a Visual Inspection only. At Certified Home Services we go one step further by investing in State-Of-The-Art Equipment and modern inspection techniques.
Some of the equipment used is;
Thermal Imaging Camera - For aiding in the detection of moisture throughout the home and may help in the detection of Termites.
Acoustic Probe - Used to sound out hollow timbers and assist in finding Termite Damage.
Scientific Grade Moisture Meter - This unit helps track down areas of the home which are holding moisture and may indicate a bigger issue.
High Resolution Digital Camera - For taking photos of Areas of Concern for the Termite Inspection Report
Borescope Camera - Used in Invasive Inspections where this cable camera is feed into the wall or void for further investigation of areas of concern.
Digital Reporting Software - Field staff are now 100% paperless as all reports are now digital and can be sent to the customer same day!
Get a 12 Month Warranty With Your Termite Inspection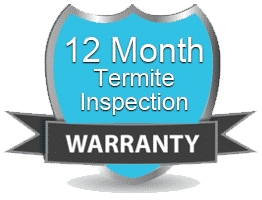 Some customers will be eligible for a 12 Month Inspection Warranty. To get the warranty customers will have to rectify the termite inspectors recommendations relating to the Conduce Environments.
These Conduce Environments will need to be fixed within 30 days of the Inspection and photo's emailed through to [email protected] If you have been notified that your home is eligible and Termites are found on your property then we will do a localised treatment at no charges.
This can potentially save you $100's of dollars.
Conducive Environment - What attracts termites to my house
A Conducive Environment is an area around your home that can potentially attract Termites or other Timber Pests. Poor ventilation to subfloors, inadequate drainage, gardens up against homes are just a few. Why these areas of concern are high on radar is because they all are a source of moisture. Where there is moisture is a good sign of where Termites will attack. Remove these Conducive Environments and you lower your termite risk factor.
So if you are after a fantastic company to give you a thorough Termite Inspection then give us a call on (1300077133). We hunt for Termites in Brisbane, Logan, Ipswich and on The Gold Coast.